One of the great changes for the self-employed on the move, whether you're a mobile hairdresser or a masseur or even running a food truck, has been the advent of contactless payment devices linked to your mobile phone.
Even better than the on-the-go convenience is that, unlike the old days of fixed payment terminal card machines, you don't have to enter a constricting fixed-term contract. You just buy the machine, download the mobile app onto your smartphone and off you go. Mobile phone payment is via a fixed rate per transaction.
>See also: Why businesses should go cashless: pros and cons
---
How much will my mobile phone payment device cost?
There are two parts to consider: the upfront cost of your mobile phone payment card reader and then the cost to you per transaction.
>See also: 8 payment systems for festivals, pop-ups and street food markets
The mobile phone payment card reader can cost anywhere between £16 for a Square Reader up to £49 + VAT for the Shopify Wisepad 3; the cost per transaction ranges from between 0.8 per cent plus a £0.02 transaction fee if you're a Revolut customer up to 1.75 per cent for Square and Zettle transactions.
---
Cheapest is not necessarily best
As the adage goes, you get what you pay for.
Cheapest is not necessarily best if you are looking for added functionality through your mobile phone payment system, such as real-time stock management.
So, which of the plethora of mobile phone payment devices is right for you and your business?
Jump to a particular provider or read or for a comprehensive overview.
---
Barclaycard Anywhere
Device cost
£14.50 + VAT (normally £29 + VAT)
Transaction fee
1.60%
CNP fee
2.5%
Key features
● Contactless and Chip & PIN
● Accepts most major payment providers including Google and Apple Pay (does not accept Amex or Diners Club)
● Payments settled in 1-2 working days
● Email and SMS receipts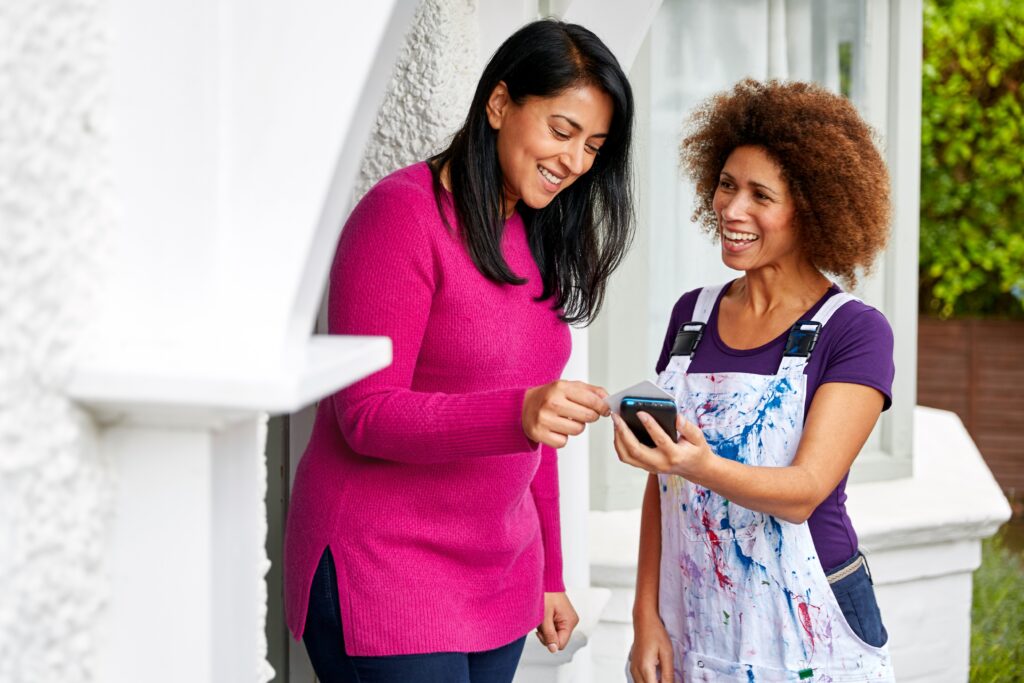 Barclaycard Anywhere is an affordable major card payment machine and a big challenger to the likes of SumUp and Zettle.
The device costs £29 plus VAT and charges 1.6 per cent for each transaction, the third lowest after Shopify and Revolut.
You can track your stock and sales with its dedicated app, which encrypts all payments and customer data. Though it's worth pointing out that the Barclaycard Anywhere app only has 2/5 on the app store, with customers criticising its bugs and glitches and trouble connecting.
Pros are that it's a compact and affordable card reader with low transaction fees and payments settled within 1-2 business days.
However, unlike rivals, when applying for Barclaycard Anywhere, you have to go through an online vetting process to be approved for a device, and it currently doesn't accept American Express or Diners Card.
---
Revolut Reader
Device cost
£35
Transaction fee
0.8% + £/€0.02
CNP fee
UK consumer cards 1% + £0.20; all international and commercial cards 2.8% + £0.20
Key features
● Connects to Revolut Pro service for self-employed, freelancers, gig workers
● Terminal is currently on special offer at £35 + VAT (down from £49)
● Transactions clear within one business day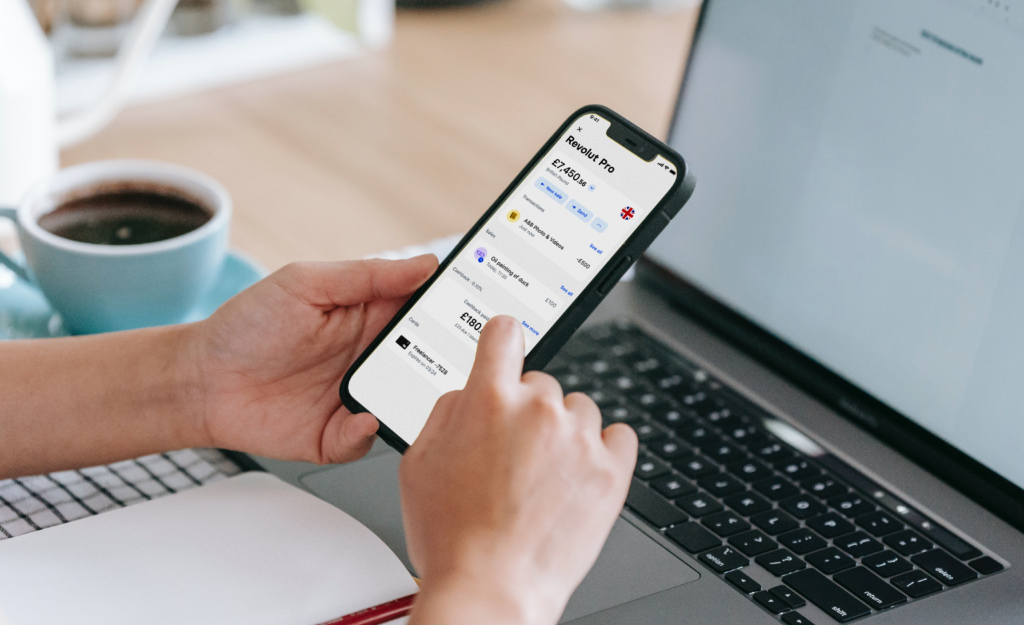 This month (September) Revolut has launched its Revolut Pro service for the self-employed, freelancers and gig workers.
Revolut Pro offers a free business account for the self-employed using the Revolut banking app, including a dedicated IBAN for international transfers, a 1 per cent cashback debit card and enables multi-currency payment using QR codes, payment links and invoice template
Users in Britain and Ireland can also use the handheld Revolut Reader to accept payments.
Revolut Reader is a contactless and chip card reader that Revolut Pro and other business account holders can buy as long as they have an approved merchant account separate from their current account. Transactions clear in the online account connected with a Visa debit card within one business day.
The terminal is currently on special offer at £35 + VAT (down from £49), excluding a compulsory £5 shipping charge. Fees are low for UK consumer cards at 0.8 per cent + £0.02p but high for other foreign and business cards (2.6 per cent + £0.02p).
However, Revolut Reader only connects with the Nobly POS system, so it doesn't work with Shopify or other commonly used platforms. The company says other integrations are coming soon.
To get started, you first need to sign up for a Revolut business account (free plan available), then apply for a Revolut Merchant Account that allows you to accept card payments online and through the card reader.
---
Shopify WisePad 3 Reader
Device cost
£49 + VAT
Transaction fee
No transaction fee for Shopify Payments users
CNP fee
2.5%
Key features
● Fully integrated with Shopify POS
● Accepts all major payment types including Google and Apple Pay, Amex and Diners Club, and contactless
Like the Revolut Pro, Shopify's Wisepad 3 Reader is only available for Shopify customers.
It's lightweight (130 grams) and accepts all major payment cards and types. You have to enable Shopify Payments to be able to use it, but it's all fully integrated with Shopify POS and your online shop, which makes it easy to create a slick and functional payments system.
The main advantage of using Shopify Payments is that it doesn't charge any transaction fees. However, if you use any other payment gateway, you'll be charged anything between 1.5 per cent to 1.7 per cent, depending on which Shopify plan you're on.
And Wisepad 3 only works with an Apple iPad or iPhone running iOS 12.5.1 or higher.
---
Square Reader
Device cost
£16 + VAT
Transaction fee
1.75%
CNP fee
2.5%
Key features
● All day battery
● Weighs just 56g
● Funds deposited the next business day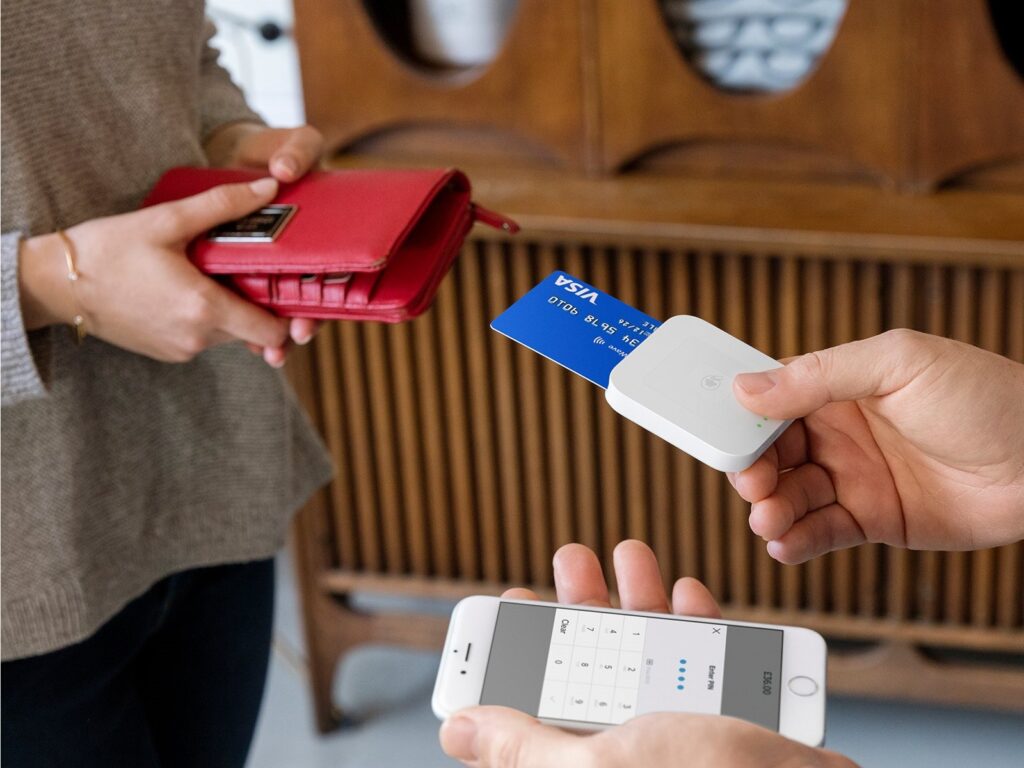 The Square Reader is the most sleek, simple and affordable card reader on the market. This appropriately square-shaped device costs just £16, much lower than competitors.
And weighing in at just 56g, it's not just the price that's low. All you have to do is sync it to your phone via Bluetooth and start selling. You can then monitor and manage all your sales from Square's free app. All funds are deposited the next working day.
Square also has a whole arsenal of other payments kit you can buy to create a full POS setup including terminals, registers, and other hardware and accessories.
At 1.75 per cent, the transaction fees aren't the lowest, but you'll still struggle to find a more lightweight and cost-effective way to start taking payments.
---
SumUp Air Card Reader
Device cost
£29 (£39 with charging dock) (excl. VAT)
Transaction fee
1.69%
CNP fee
2.5%
Key features
● 500 transactions per charge
● Contactless & Chip & PIN
● Payments settled in 2-3 business days
● Accepts all major payment types including Google and Apple Pay, Amex and Diners Club, and contactless
● Email and SMS receipts
Thanks to its ease of use and practicality, this stylish and lightweight portable card reader is currently one of the popular card readers for small businesses.
You also get access to a handy app, with a dashboard that allows you to view your product catalogue, track sales, and send digital receipIt's easy to set up and start using. All you need to do to start accepting contactless, Chip & PIN, and mobile payments from all major providers is to pair the device with your smartphone, which takes minutes.
You can then start using the SumUp Air anywhere with Wi-Fi or data coverage, and it can process 500 transactions on a single charge – probably the best battery life on the market.
Available for a one-off cost of just £29, and with a fixed 1.69 per cent transaction fee, it's also affordable.
The only real downside of the SumUp Air is that it can take 2-3 business days for payments to settle in your account, longer than the average of around 1-2 days.
---
Zettle Reader 2
Device cost
£29 + VAT (charging dock £39)
Transaction fee
1.75%
CNP fee
2.5%
Key features
● 8 hour battery life (100 transactions)
● Accepts all major payment types including Google and Apple Pay, Amex and Diners Club, and contactless
● Payments settled in 1-2 business days
● Email and SMS receipts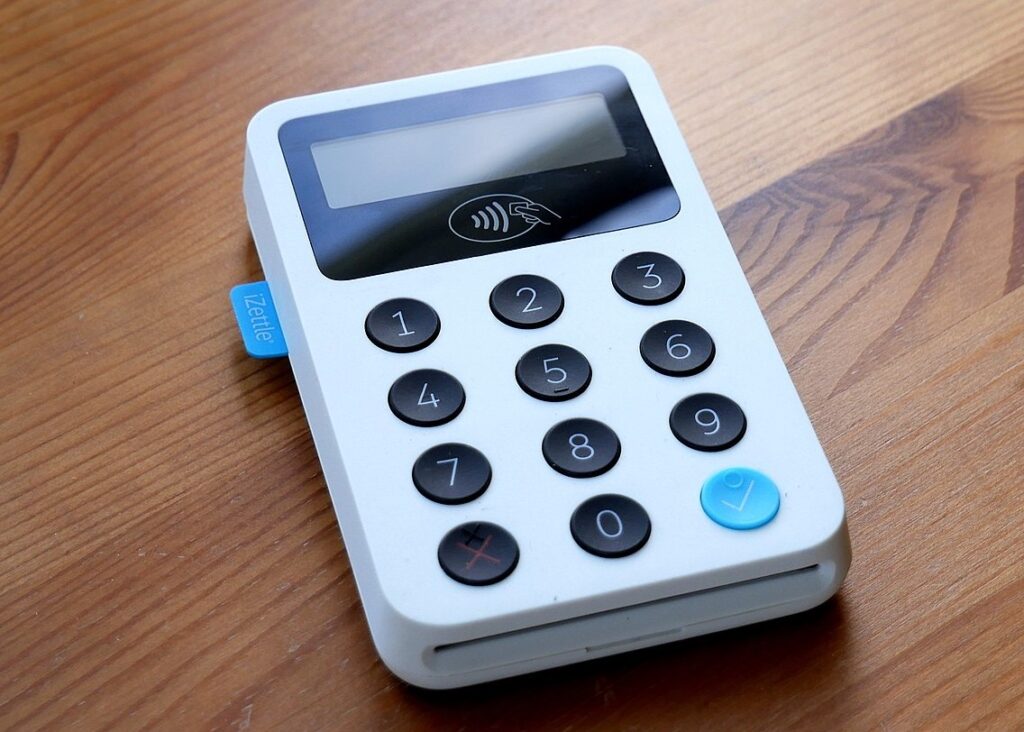 The Zettle Reader 2 is another lightweight (just 130g) device that you can pair with your Apple or Android smartphone and start using within minutes.
It accepts all major debit and credit card payment types and has a decent eight-hour battery life – though this only lasts for around 100 transactions, which is no match for SumUp's 500.
Where the Zettle Reader 2 really seeks to differentiate itself though is in its focus on security.
Claiming to be one of the safest card readers on the market, Zettle's tamper-proof device adheres to the highest industry standards, and is fully encrypted by HSMs cryptographic servers.
And if you do spot a suspicious charge, Zettle's transaction protection covers up to £250 in chargebacks per month.
As with the SumUp Air, there is no monthly fee – you just pay a flat rate per transaction at 1.69 per cent, slightly higher than Barclaycard Anywhere.
You should also be aware that the advertised £29 price is only for your first reader as a new business customer. Subsequent devices will cost you £59. The charging dock is sold separately for £39 + VAT.
---
Next steps
Want to compare prices from all the best mobile payment devices we've listed above? Why not use our free comparison tool to be matched with the most suitable provider for your needs as a self-employed business owner.
Simply fill in our free quote-finding form, and answer a few questions about your business (it takes less than a minute). We'll match you with the most appropriate card payment provider.
---
Further reading